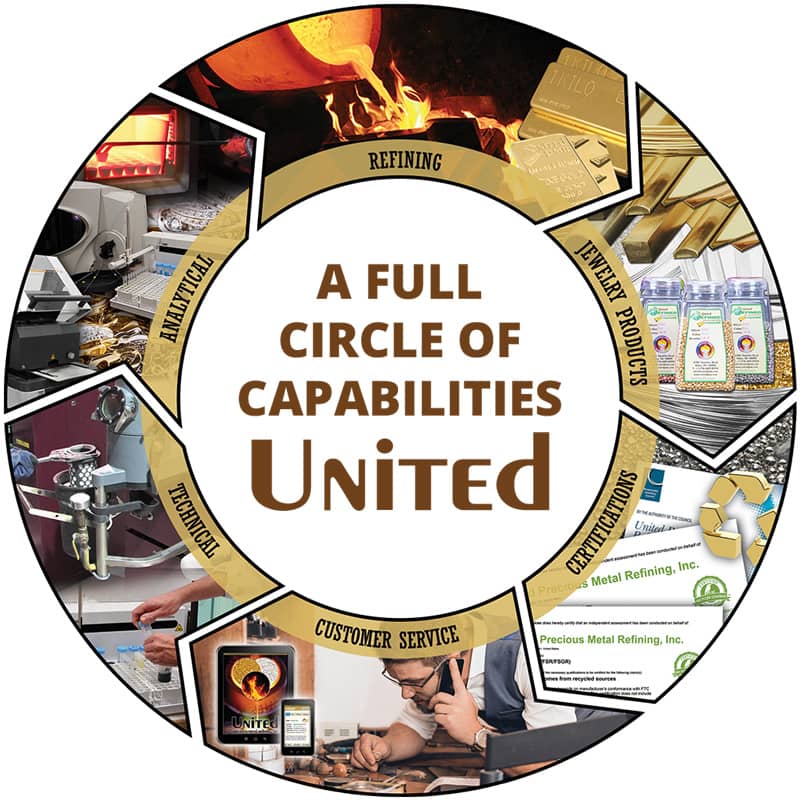 Become a Customer
DISCOVER WHAT UNITED CAN DO FOR YOU
United PMR is a full service refiner and supplier of precious metals, exclusively serving the jewelry industry.
EXPERIENCE YOU CAN COUNT ON
When you look for precious metal refining services with United PMR, you can be sure your refining lots will be true and accurate. Our analytical laboratory uses the latest state of the art equipment to test precious metals. Used in verifying our products as well as incoming refining lots, you can rest assured knowing the products you order from us and the metals sent in for refining will be accurately tested for quality and maximum return.
FINANCIAL STRENGTH & STABILITY
Since 1988, United PMR has been serving the jewelry industry domestic and internationally. Our unique corporate structure allows for stability no matter how the markets are moving. Product sales to jewelry manufacturers and retailers represent one aspect of our business model that is fed from our refining facility allowing us to recycle and reuse the scrap gold in our own production.
RESULTS YOU CAN TRUST
United PMR offers peace of mind to all their customers in both the product and metal refining sectors. Our rigorous compliance reviews and continuous monitoring ensures that every customer and transaction adheres to our policies and are in compliance with our certification requirements for conflict-free gold as certified by the RMI, RJC and SCS Global.